Every investor looks for consistent and reliable stock returns. The most reliable investments available in the stock market are the "Blue Chip" stocks.
Blue chip stocks offer stability in their dividend payments and share prices, but how do you know which companies to start investing in?
There are thousands of Blue-Chip equities for sale each day, but the ones that really deserve your attention are those that have had consistent growth over time.
In this article, we have listed the top 15 Blue Chip stocks that have increased their dividend payments for more than 50 years in a row.
What Are Blue Chip Stocks?
The term "blue chip" refers to the high-value chips that are often found in poker. However, Blue Chip stocks are not necessarily those that are expensive.
A large, established, and financially strong corporation that has been in business for a long time is considered to have a blue-chip stock. A blue-chip stock often has a market valuation of billions and is either the market leader or among the top three corporations in its industry. Age suggests consistency and stability in the stock market for corporations.
Common characteristics of Blue-Chip stocks are;
High Market Capitalization
Stable Debt-to-Equity Ratios
Low to No Debt
High Returns on Equity and Assets
Dividends have the potential to be more significant than any other indicator, even though the term "blue chip" represents stability.
Paying your investors more each year demonstrates consistency and reliability better than anything else.
The Dividend Aristocrats have acted in this manner.
A stock index, S&P 500 Dividend Aristocrats include corporations whose stock dividend has mounted for at least 25 years.
What could be superior to an aristocrat?
A king.
Companies that have grown their dividend payouts for 50 years or more are known informally as "Dividend Kings."
Slow-growing businesses with steadily increasing payouts are known as dividend kings.
That's what makes them consistent and reliable.
Some of the most consistently profitable and rapidly expanding blue chip stocks are included in the list below.
15 Most Consistent Blue Chip Stocks with Higher Pay Off: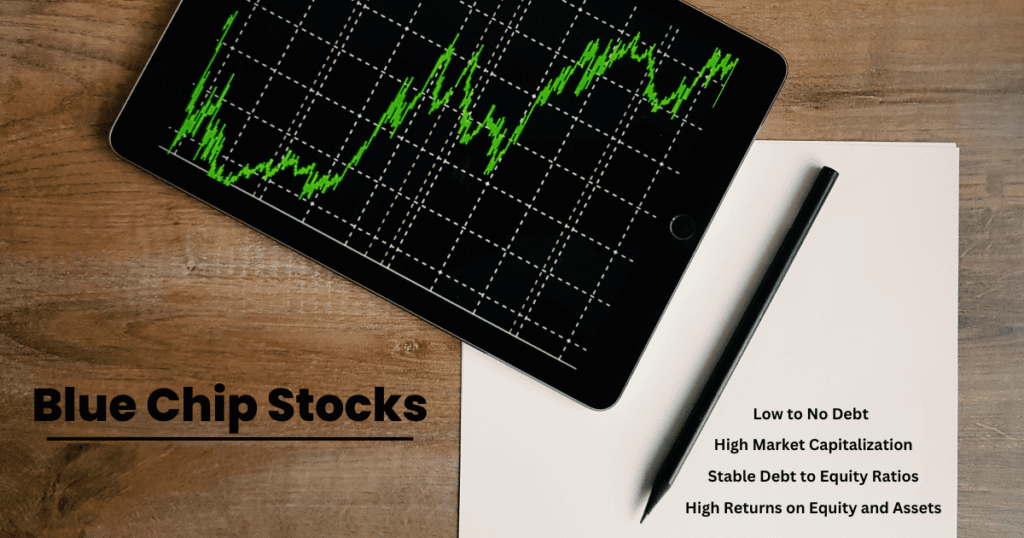 1.   Lowe's Companies Inc. (LOW:NYE):
With 54 years in a row of rising payouts under its belt, Lowe's Companies Inc. is particularly an impressive king.
The corporation also has one of the highest 30-year dividend growth rates, at 17.6% per year.
A Fortune 500 corporation, Lowe's runs a network of appliance and home improvement retail locations in Canada, the US, and Mexico.
After The Home Depot, the second-largest home improvement retailer in the US is Lowe's.
Lowe's has avoided the Amazon impact. Unlike the majority of brick-and-mortar retailers, Lowe's has met customer expectations by allowing them in-store interaction, such as for hardware testing and paint matching.
However, Lowe's has benefited from its significant investment in e-commerce as well. For instance, the business now gives customers the choice to order things online and same-day pick up from the store. This feature has been incredibly well-liked by customers.
In its fiscal year 2020, Lowe's increased e-commerce sales by 111% to over $8.70 billion. This is a remarkable accomplishment as Amazon and Home Depot are the company's two primary competitors.
2.   Lancaster Colony Corporation (LANC:NSD):
Due to its low market capitalization, Lancaster Colony Corporation is not a common dividend king. In 2022, the business increased dividend payments for the 60th consecutive year.
With 15% annual returns over the past 30 years compared to 10% for the S&P 500, Lancaster Colony has consistently outperformed the market.
Lancaster Colony operates food products for the retail and food service markets. The company owns various small brands, including:
New York Brand Bakery
Marzetti
Flatout
Sister Schubert
Chatham Lodge
Aunt Vi's
Reames
Mamma Bella's
Romanoff
They also receive a major chunk of their income by licensing food products to restaurants like Olive Garden and other retailers.
3.   Parker-Hannifin Corporation (PH:NYE):
Undoubtedly among the earliest dividend kings is Parker-Hannifin Corporation. By 2022, their payouts had been rising continuously for 66 years.
Parker Hannifin operates as one of the most diversified industrial and aerospace systems. The company manufactures and sells motion and control technologies and systems for various mobile, industrial, and aerospace markets worldwide.
They've got:
292 manufacturing facilities
88 distribution hubs
154 offices spread throughout 49 nations
The business has broadened its services over the past ten years by establishing a "systems" segment that offers services and goods that are specifically customized for the needs of customers.
4.   Hormel Foods Corporation (HRL:NYE):
Hormel Foods Corporation has 57 years in a row of rising annual dividends in 2022.
Hormel, another dividend king, has a 5%-11% CAGR five-year projected total return potential.
Hormel has increased its dividend by 10.8% over the last 20 years.
Hormel is another food supplier with a large portfolio of well-known brands. Here are a few of Hormel's brands:
Skippy
Dinty Moore
Jennie-O
Muscle Milk
SPAM
The business has five sources of revenue:
49% of sales, and 43% of profit through Refrigerated Foods in 2016
24% profit, 18% sales through Jennie-O Turkey Store
18% of sales, and 19% of profit through Kitchen Products
8% profit, 10% sales through Specialty Foods
5% of sales, 6% of profit through International and Other segments
Although 90% of Hormel's revenues come from North America, the firm is actively attempting to increase its global reach.
Hormel, which only has 49 patents, doesn't have a competitive edge through patents, even though some businesses do so.
Instead, the company's main asset is its reputation. Hormel consistently spends more than $150 million on advertising, which has been very successful.
In their respective categories, over 35 Hormel brand items have the first or second-largest market share.
These premium brands are thought to account for about 60% of Hormel's retail sales.
5.   3M Company (MMM:NYE):
By the year 2022, 3M Company will have paid dividends to its stockholders continuously for more than 100 years, and throughout that time, the yearly payout has increased 63 times.
One of the all-time most successful businesses is 3M. For its more than 100-year history, the corporation has acquired over 100K patents, and there are no signs that this expansion will slow down.
With a substantial R&D budget, 3M routinely obtains over 3,000 patents per year.
Although 3M is frequently referred to as the "sticky notes company," they provide goods for many different industries. These goods concentrate on important stock sectors:
Safety and Industrial
Transportation and Electronics
Healthcare
Consumer
The corporation is less vulnerable to threats specific to its industry because of its strong diversification.
More than 70 nations are where 3M conducts business and distributes its products. Despite having its headquarters in the US, the corporation generates more than 60% of its revenue from abroad.
6.   Apple Inc. (AAPL:NSD):
Apple Inc. has increased its dividend for 11 years in a row while also growing more than $62 billion in cash. Apple has an unmatched ability to create free cash flow.
Apple is the largest publicly traded firm in the world. It is now valued at more than $2.6 trillion due to its profitability.
However, the IT titan's innovation has not been held down by its size.
The Macintosh computers that launched Apple's consumer product line in the 1980s were followed by the revolutionary iPods of the early 2000s.
The iPhone, however, which now generates close to $200 billion in revenue annually, was the most revolutionary product.
Despite having a long history of making technology products, Apple has recently placed more emphasis on increasing the revenue from its Services business, which brought in close to $70 billion in 2017. With this change, the business has been able to capitalize on customer devotion to the brand and develop a number of new, high-margin income streams that will underpin Apple's profitability for years to come.
This should translate into stable, long-term returns and an increasing dividend for investors, as well as a consistent increase in profits and free cash flow.
7.   Berkshire Hathaway Inc. (BRK-A:NYE):
Berkshire Hathaway Inc. is the only organization on this list of the most consistent blue chip stocks that don't currently pay a dividend.
One of the greatest investors of all time, CEO Warren Buffett chooses to invest in Berkshire's surplus funds rather than distribute dividends.
The strategy has been successful for Berkshire's investors, as seen by his compound annual return of 20.1% from 1965 to 2022 (in contrast to the S&P 500's 10.5%).
Berkshire Hathaway is the owner of a wide range of firms, including everything from fast-food chains to insurance companies.
With one of the most varied corporate portfolios in the world and a track record for reliability, security, and performance, Berkshire is unquestionably a blue chip stock to take into consideration.
8.   American Express Company (AXP:NYE):
The financial behemoth American Express Company largely makes money from transaction and credit card processing fees.
American Express is positioned to benefit as our society continues to move toward being more cashless.
The management of the more than 170-year-old business anticipates profits to expand at a double-digit rate through 2025, which is very promising for long-term shareholder returns.
Furthermore, with a current payout ratio of 18.9%, it has lots of room to raise the dividend in the future.
This blue-chip stock is poised to reward shareholders when combined with organic profit growth.
9.   Lockheed Martin Corporation (LMT:NYE):
American defense contractor Lockheed Martin Corporation has a 20-year dividend increase track record.
Through defense contracts, the business develops, manufactures, and runs cutting-edge technology products for the American government.
Its primary products include:
Energy
Aircrafts
Air & missile defense
Autonomous Systems
Other service and training initiatives
The business claimed a $134 billion backlog of orders as of March 2022.
These pre-orders give the company a great deal of insight into future revenue and cash flow.
10.     Coca-Cola Co. (KO:NYE):
33 years ago, Berkshire Hathaway CEO Warren Buffett started purchasing Coca-Cola Co. stock.
He currently holds 400 million shares, which brings approximately $672 million in dividend income annually for his business.
Coca-Cola is among the top 10 dividend stocks in the world because of its 61-year history of dividend growth.
Despite starting only with its namesake soft drink, Coca-Cola has expanded to offer a considerably wider range of goods throughout time.
The Coca-Cola brand now offers the following products for sale:
Sports Drinks
Juices
Bottled Water
Coca-Cola has a positive outlook to continue its remarkable streak of increasing earnings and paying dividends to shareholders unless people suddenly quit buying soda or other beverages.
11.     Johnson & Johnson (JNJ:NYE):
A $431 billion healthcare giant that has increased its dividend every year for the past 61 years, Johnson & Johnson is the real blue chip stock.
The business is most known for its well-liked consumer goods, including:
It also produces a wide range of medical tools that help doctors and other healthcare providers save lives and improve the quality of life for their patients.
By the end of 2023, J&J plans to split into two firms.
The medicines and medical device segments will be run by one business, while consumer health items will be covered by the other.
Both companies have extraordinarily steady demand, and it is anticipated that their revenue will increase for many years to come.
We can expect management to keep rewarding shareholders with a rising dividend and repurchasing of shares.
12.     Walmart Inc. (WMT:NYE):
Walmart Inc. is another blue chip stock that is evaluated in terms of total revenue to be considered the world's largest company.
For the past 49 years, the corporation has consistently increased its dividend.
Walmart is an American retail company that runs supermarkets and department stores in both local and foreign markets.
To compete with Amazon, Walmart also introduced an online store and other subscription services, which it has done with varying degrees of success.
Regardless of the state of the economy, Walmart is a consumer staple with an excellent increase in its e-commerce sales.
13.     JPMorgan Chase & Co. (JPM:NYE):
JPMorgan Chase & Co. is currently trading at a P/E of less than 10x, suggesting that this could be a perfect time to buy the top blue chip stock.
The stock's appeal is boosted by its dividend yield of 3.49% and 11-year history of dividend increases.
While concerns about rising interest rates and potential loan defaults continue, JPMorgan stands out from other banks.
JPMorgan Chase has an incredibly solid balance sheet that is ready to withstand difficult times.
In addition, investors seem to have already taken into account the short-term challenges given the stock's present value.
Analysts continue to forecast 5% CAGR growth in the company's earnings over the next five years, which will enable JPMorgan to easily maintain its dividend and maybe raise it further.
14.     Microsoft Corporation (MSFT:NSD):
Microsoft Corporation is a multinational firm based in Seattle, Washington, that produces software and consumer devices.
For 20 years running, the blue-chip stock corporation has increased its dividend.
Microsoft makes a considerable amount of money from enterprise-level software solutions even though its consumer-focused products, including Xbox, Surface, and Windows operating systems, are what the company is best known for.
Long into the future, these enterprise solutions are anticipated to produce significant revenue and profit growth, significantly boosting the company's already remarkable free cash flow.
The extra share repurchases and dividend increase can be made with this cash flow.
For the next ten years or more, Microsoft is regarded by many investors as the best blue chip stock to purchase.
15.     Home Depot Inc. (HD:NYE):
For the past 14 years and counting, The Home Depot Inc. has increased its dividend.
The top home improvement retailer in North America is Home Depot. Due to consumers' abundance of cash and increased time spent at home during the pandemic, the company benefited greatly from it.
However, following the COVID lockdowns, home renovation spending has continued to be high, which has led to tremendous growth for Home Depot.
The business has a lengthy track record of success even in challenging economic conditions, such as the 2008 housing crash. Although the stock price did decline, the underlying firm largely survived the Great Recession.
Home Depot deserves to be included on this list of the top blue chip stocks if it can get through 2008 and flourish during the pandemic.
Blue Chip Stocks- The Takeaway:
Blue-chip stocks are those of well-established businesses with profitable business concepts that have endured the test of time.
They are outstanding investments for long-term investors due to their stability in producing profits, which generates significant long-term returns and consistent dividend increases.
Many of the stocks on the above-mentioned list of blue-chip stocks have been in existence for more than a century, demonstrating the ability of their companies to endure and prosper despite challenging economic situations.
This trait makes blue-chip businesses attractive to conservative investors and those wishing to diversify their portfolios into safer stocks.
But just because a stock has done well in the past doesn't guarantee that it will do so in the future.
And as many investors are aware, equities with little prospects for future growth quickly lose popularity.
Because of this, the blue-chip stocks you include in your portfolio must have the ability to see revenue and profit growth rates that are comparable to their historical averages in the future.
These large-cap firms are a great choice to start investing for new investors.
Since these companies offer goods and services that are essential to the lives of billions of people worldwide, blue chip stocks are among the safest investments on the stock market.