Snap Stock (SNAP:NYE) Analysts Rate Hold as stock Dives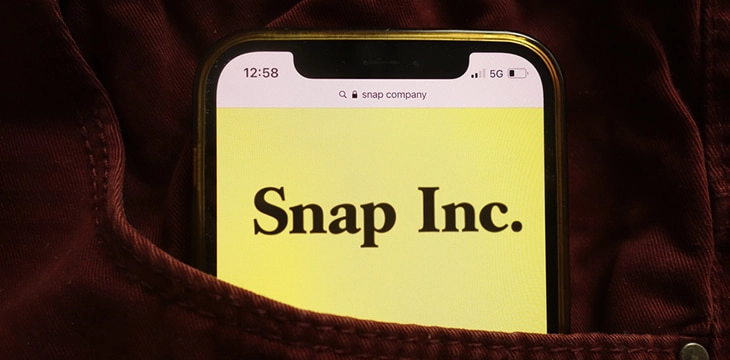 Snap Stock Analysis:
Snap stock forecast from 35 analysts, has the average analyst target price for Snap at $12.59 over the next 12-month period. The stock's average analyst rating is a Hold. Stock Target Advisor's analysis of Snap is Slightly Bearish, which is calculated on 4 positive signals and 5 negative signals for the stock. The last closing of Snap stock price was  $10.86, and the stock price has changed by +3.33% over the past week, -4.32% over the month and almost -86% over this past year.
The 12-month Crowd target is $27.97 per share, with an average consensus Crowd rating of a Hold.
CFRA Research Senior Equity Analyst Angelo Zino voiced his concern over the stock's collapse and believes that the earnings disappointment was really caused by the average revenue per user drop.
Earlier today, Jefferies and Company cut the 12 month target forecast on the stock to $17 per share from $25, with a previous Buy rating.
About Snap (SNAP:NYE)
In North America, Europe, and other parts of the world, Snap Inc. works as a camera firm. The business provides Snapchat, a camera app with a variety of features like Camera, Communication, Snap Map, Stories, and Spotlight that allow users to visually interact through brief films and photographs. Additionally, it offers Spectacles, eyewear that connects to Snapchat and takes pictures and videos from the perspective of people, as well as advertising goods including AR advertisements and Snap ads, which include single image or video ads, story ads, collection ads, dynamic ads, and commercials. In September 2016, the business changed its name from Snapchat, Inc. to Snap Inc. Santa Monica, California serves as the home base for Snap Inc., which was established in 2010.
News:
After the social media company revealed weaker-than-expected third-quarter sales, Snap shares fell more than 25% in extended trading on Thursday. It's Wall Street's first glimpse at the status of the troubled online advertising sector which is hammering companies that rely on this stream as their main source of revenue like social media companies.
The estimated earnings for the quarter were a slight loss  for the company's adjusted earnings per share of 8 cents.  Revenue estimates were for $1.13 billion compared to the $1.14 billion predicted. The company's userbase is estimated at 363 million global daily active users, against the forecast of 358.2 million users.
The company's third-quarter revenue increased by 6% over the same period last year, marking the first time it has fallen below 10% since Snap went public in 2017. Snap's net loss increased 400% to $360 million yet it nevertheless posted a surprise adjusted profit, in part because of a $155 million restructuring charge.  However, Daily active users climbed by 19% year over year, demonstrating the company's ability to draw customers despite difficulties in the business, however on the down side tthe average revenue per user (ARPU) fell 11% which is seen as the main catalyst for the stocks after hours sell off.
In August, the company revealed that as part of a significant reorganization plan, 20% of the company's approximately 6,000 employees would be let go. The majority of the restructuring charge during that time period was made up of severance and associated expenditures.  The company identified a variety of issues, including platform policy changes, macroeconomic headwinds, and increased competition, that were contributing to the revenue growth slowdown in the third quarter, "We are finding that our advertising partners are cutting their marketing budgets across a wide range of industries, particularly in the face of challenging operating conditions, inflation-driven cost pressures, and rising capital costs."
Management also reiterated that it would not provide guidance for the fourth quarter, the second time in a row that it has made this decision.
A lot of the company's issues relate to Snap's ability to track customers across the web, which is still restricted by the 2021 privacy update to iOS, which hurts its online advertising business, and other social media platforms.
Advertisers have also stopped or reduced the amount they are spending on their ads as a result of the economic slowdown and possible recession which is heavily hitting the industry, and bears the af0rementioned brunt of the stock's current demise.
Fundamentals Analysis:
Positive Fundamentals:
The company has a large market capitalization which helps provide stability.    Snap has superior risk adjusted returns in comparison to its sector peers.  The company has positive cash flow in the previous year. The company also has superior revenue growth and returns have been stable and consistent in comparison to its peers in the sector over the last 5 years.
Negative Fundamentals:
The company has a high volatility metric compared to it's sector and it's total returns have been unstable for the past 5 years. Snap is trading overpriced in comparison to the book value, and is also trading elevated against its valuation on a cashflow basis including negative free cash flow.  Finally the stock is highly leveraged and saddled with debt compared to the industry standard.
Recent Trades:
On Monday, October 17th, Snap's Chief Accounting officer. Rebecca Morrow sold 7,782 shares of the company's stock, for a total transaction value of $83,812.14, the stock was sold at an average price of $10.77. The chief accounting officer now owns 247,532 company shares, valued at $2,665,919.64, after the transaction.
Park Avenue Securities LLC reduced its holdings in the business by 16.8% in the second quarter (SEC). After selling 5,260 shares of the company's stock during the quarter, the firm now owns 26,091 shares. At the conclusion of the most recent quarter, Snap was valued $343,000 to Park Avenue Securities LLC.
Disclaimer
Stock Target Advisor is not a broker/dealer, investment advisor, or platform for making stock buying or selling decisions. Our goal is to democratize and simplify financial information through automated analysis, aggregation of stock information, and education to help investors with their research. No content on our site, blogs or newsletters constitutes – or should be understood as constituting – a recommendation to enter into any securities transactions or to engage in any of the investment strategies presented in our site content. We also cannot guarantee the accuracy of any information presented on our site and in our analysis.