Royal Bank of Canada (RY:TSX) (RY:NYE) Analysts rate as Buy, Caution over Housing impact on Earnings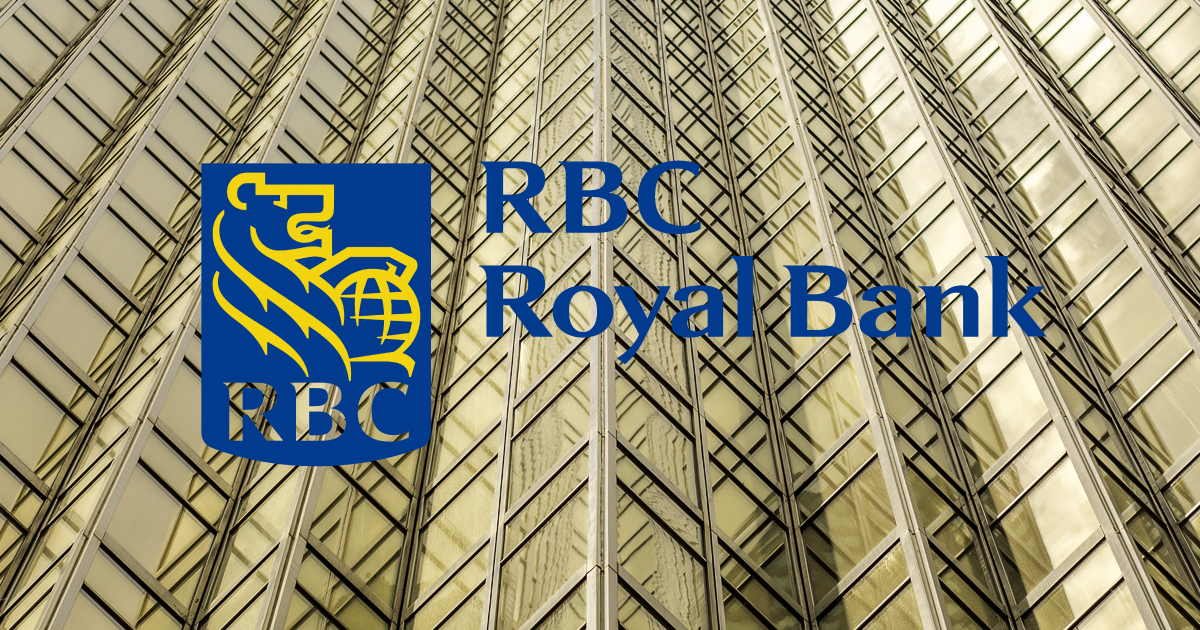 Royal Bank of Canada Stock Analysis:
Based on the Royal Bank of Canada stock forecasts from 12 analysts, the average analyst target price for Royal Bank stock TSX is CAD 146.84 over the next 12 months. Royal Bank of Canada's average analyst rating is Buy . Stock Target Advisor's own stock analysis of Royal Bank of Canada is Slightly Bullish , which is based on 8 positive signals and 4 negative signals. At the last closing, Royal Bank of Canada's stock price was CAD 126.89. Royal Bank of Canada's stock price has changed by +0.36% over the past week, -0.38% over the past month and -3.11% over the last year.
About Royal Bank of Canada (RY:CA:TSX)
Royal Bank of Canada operates as a diversified financial service company worldwide. The company's Personal & Commercial Banking segment offers checking and savings accounts, home equity financing, personal lending, private banking, indirect lending, including auto financing, mutual funds and self-directed brokerage accounts, guaranteed investment certificates, credit cards, and payment products and solutions; and lending, leasing, deposit, investment, foreign exchange, cash management, auto dealer financing, trade products, and services to small and medium-sized commercial businesses. This segment offers financial products and services through branches, automated teller machines, and mobile sales network. Its Wealth Management segment provides a suite of advice-based solutions and strategies to high net worth and ultra-high net worth individuals, and institutional clients. The company's Insurance segment offers life, health, home, auto, travel, wealth, annuities, and reinsurance advice and solutions; and business insurance services to individual, business, and group clients through its advice centers, RBC insurance stores, and mobile advisors; digital, mobile, and social platforms; independent brokers; and travel partners. Its Investor & Treasury Services segment provides asset servicing, custody, payments, and treasury services to financial and other investors; and fund and investment administration, shareholder, private capital, performance measurement and compliance monitoring, distribution, transaction banking, cash and liquidity management, foreign exchange, and global securities finance services. The company's Capital Markets segment offers corporate and investment banking, as well as equity and debt origination, distribution, advisory services, sale, and trading services for corporations, institutional investors, asset managers, private equity firms, and governments. The company was founded in 1864 and is headquartered in Toronto, Canada.
Company News:
Royal Bank of Canada (TSX: RY) (NYSE: TSX) will release its third quarter results for 2022 on August 24, and will be released at 6.00am EST and a conference call will follow at 8.00am EST by the bank's executives to discuss the particulars of the results.
Desjardins Capital lowered their Q3 2022 EPS forecasts for Royal Bank of Canada. In contrast to their previous estimate of $2.10, Desjardins analyst D. Young now predicts that the financial services company will report earnings of $2.07 per share for the quarter. The current full-year consensus estimate for Royal Bank of Canada's earnings is $8.86 per share.
Analysts will be watching with great interest, the company's language around the impact of the Canadian housing correction on the bank's balance sheet and the Canadian economy as a whole, regarding future estimation projections.  Analysts and Investors alike will be looking at the bank's loan provisions, and mortgage default rate very closely for weakness which could impact the company, stock and sector sentiment severely.
RBC Senior Economist Robert Hogue recently predicted that housing prices will likely continue to decline in the upcoming months as a consequencet of upcoming hikes.
According to Hogue, "the market will continue to be chilly in the months ahead given our forecasts for further hikes by the Bank of Canada—another 75 basis points to go in the overnight rate by the fall." "We anticipate that if buyers adopt a wait-and-see attitude while evaluating the effects of increasing loan rates, the downturn will deepen and spread much further. Vancouver and Toronto, Canada's least affordable markets, as well as the areas around them, are particularly at risk because to their overly stretched affordability and disproportionate price increases throughout the epidemic.
So it appears, and we can assume that RBC's Senior economist is seeing insider insight from within his bank, from the negative effects not just in the deflationary pressures in the housing market, but more importantly on the internal impact it may have on the economy and in particular his financial institution and others as a catalyst of the housing market deflationary period.
What we like:
High market capitalization
This is one of the largest entities in its sector and is among the top quartile. Such companies tend to be more stable.
Superior risk adjusted returns
This stock has performed well, on a risk adjusted basis, compared to its sector peers(for a hold period of at least 12 months) and is in the top quartile.
Superior total returns
The stock has outperformed its sector peers on average annual total returns basis in the past 5 years (for a hold period of at least 12 months) and is in the top quartile.
High dividend returns
The stock has outperformed its sector peers on average annual dividend returns basis in the past 5 years (for a hold period of at least 12 months) and is in the top quartile. This can be a good buy, especially if it is outperforming on total return basis , for investors seeking high income yields.
Low debt
The company is less leveraged than its peers ,, and is among the top quartile, which makes it more flexible. However, do check the news and look at its sector. Sometimes this is low because the company is not growing and has no growth potential.
Superior Earnings Growth
Royal bank stock tsx has shown top quartile earnings growth in the previous 5 years compared to its sector.
Superior Revenue Growth
This stock has shown top quartile revenue growth in the previous 5 years compared to its sector.
Superior Dividend Growth
Royal Bank stock tsx has shown top quartile dividend growth in the previous 5 years compared to its sector
What we don't like:
High volatility
The total returns for this company are volatile and above median for its sector over the past 5 years. Make sure you have the risk tolerance for investing in such stock.
Overpriced compared to earnings
The stock is trading high compared to its peers on a price to earning basis and is above the sector median.
Overpriced compared to book value
Royal bank stock tsx is trading high compared to its peers median on a price to book value basis.
Negative cashflow
The company had negative total cash flow in the most recent four quarters.
Disclaimer
Stock Target Advisor is not a broker/dealer, investment advisor, or platform for making stock buying or selling decisions. Our goal is to democratize and simplify financial information through automated analysis, aggregation of stock information, and education to help investors with their research. No content on our site, blogs or newsletters constitutes – or should be understood as constituting – a recommendation to enter into any securities transactions or to engage in any of the investment strategies presented in our site content. We also cannot guarantee the accuracy of any information presented on our site and in our analysis.