Bank of Nova Scotia (BNS:TSX) Analysts trim targets on soft earnings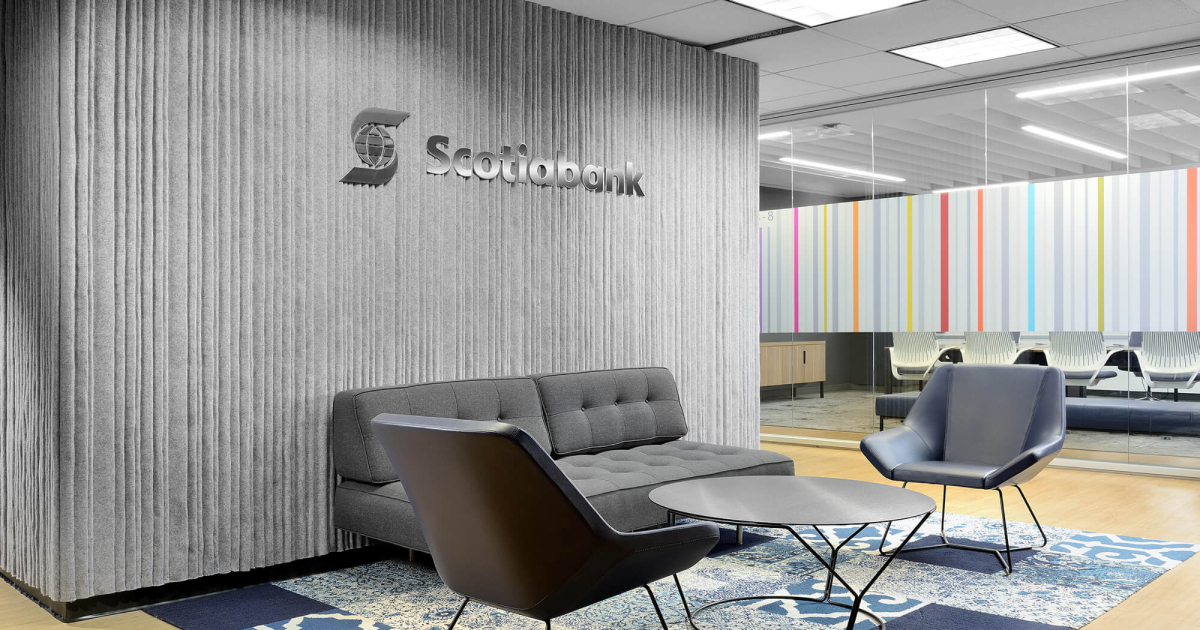 BNS Stock TSX Analysis:
Based on the Bank of Nova Scotia stock forecasts from 15 analysts, the average analyst target price for Bank of Nova Scotia is CAD 88.34 over the next 12 months. Bank of Nova Scotia's average analyst rating is Hold . Stock Target Advisor's own stock analysis of Bank of Nova Scotia is Slightly Bearish, which is based on 3 positive signals and 5 negative signals. At the last closing, Bank of Nova Scotia's stock price was CAD 80.78. Bank of Nova Scotia's stock price has changed by -0.42% over the past week, +7.58% over the past month and +1.06% over the last year.
About Bank of Nova Scotia (BNS:CA:TSX)
The Bank of Nova Scotia provides various banking products and services in Canada, the United States, Mexico, Peru, Chile, Colombia, the Caribbean and Central America, and internationally. It operates in four segments: Canadian Banking, International Banking, Global Wealth Management, and Global Banking and Markets. The company offers financial advice and solutions, and day-to-day banking products, including debit and credit cards, chequing and saving accounts, investments, mortgages, loans, and insurance to individuals; and business banking solutions comprising lending, deposit, cash management, and trade finance solutions to small, medium, and large businesses, including automotive financing solutions to dealers and their customers. It also provides wealth management advice and solutions, including online brokerage, mobile investment, full-service brokerage, trust, private banking, and private investment counsel services; and retail mutual funds, exchange traded funds, liquid alternative funds, and institutional funds. In addition, the company offers international banking services for retail, corporate, and commercial customers; and lending and transaction, investment banking advisory, and capital markets access services to corporate customers. Further, it provides online, mobile, and telephone banking services. The company operates a network of 954 branches and approximately 3,766 automated banking machines in Canada; and approximately 1,300 branches and a network of contact and support center internationally. The Bank of Nova Scotia was founded in 1832 and is headquartered in Halifax, Canada.
BNS Stock TSX News:
Bank of Nova Scotia just reported their third quarter results which showed profit missed estimates, which was a result of a collapse in earnings in the bank's capital markets business.  The recent volatility within the financial markets was to blame for the decline in the unit.
Barclay's Analyst covering the bank, John Aiken stated of the results:
"Overall, it was not a bad quarter, but we believe that the market's focus will be on the headline miss and investors will be looking ahead to the uncertain outlook,"
What we like:
Superior total returns
BNS stock TSX has outperformed its sector peers on average annual total returns basis in the past 5 years (for a hold period of at least 12 months) and is in the top quartile.
Low debt
The company is less leveraged than its peers ,, and is among the top quartile, which makes it more flexible. However, do check the news and look at its sector. Sometimes this is low because the company is not growing and has no growth potential.
Superior Revenue Growth
BNS stock TSX has shown top quartile revenue growth in the previous 5 years compared to its sector.
What we don't like:
High volatility
The total returns for this company are volatile and above median for its sector over the past 5 years. Make sure you have the risk tolerance for investing in such stock.
Overpriced compared to earnings
BNS stock TSX is trading high compared to its peers on a price to earning basis and is above the sector median.
Poor return on equity
The company management has delivered below median return on equity in the most recent 4 quarters compared to its peers.
Poor return on assets
The company management has delivered below median return on assets in the most recent 4 quarters compared to its peers.
Negative cashflow
The company had negative total cash flow in the most recent four quarters.
Disclaimer
Stock Target Advisor is not a broker/dealer, investment advisor, or platform for making stock buying or selling decisions. Our goal is to democratize and simplify financial information through automated analysis, aggregation of stock information, and education to help investors with their research. No content on our site, blogs or newsletters constitutes – or should be understood as constituting – a recommendation to enter into any securities transactions or to engage in any of the investment strategies presented in our site content. We also cannot guarantee the accuracy of any information presented on our site and in our analysis.