Bank of Nova Scotia Stock (BNS:TSX) Analyst Rates Buy, Asia cuts loom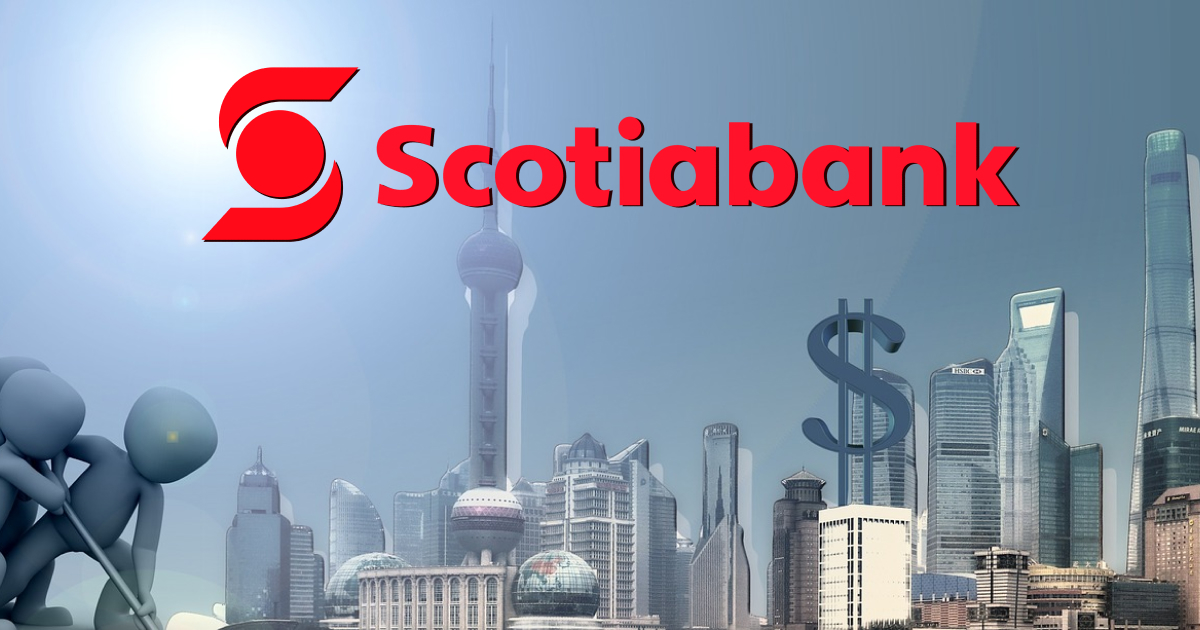 Bank of Nova Scotia Stock Analyst Coverage
On Thursday, Morningstar reiterated their coverage of the Bank of Nova Scotia stock. They gave it a Buy rating and a 12-month target price of $85 on the bank's stock.
STA Research also maintained its coverage of an Underperform rating. They kept the $57 target steady on the stock.
Analysis of the Bank of Nova Scotia:
The average analyst target price for the
Bank of Nova Scotia
stock over the next 12 months is CAD 82.24. 16 analysts covered the stock. The consensus analyst rating for the Bank of Nova Scotia stock is Hold. Based on 4 positives and 5 negative signs. Stock Target Advisor's personal stock analysis of Bank of Nova Scotia is Bearish. The consensus Crowed Rating on the stock is an Underperform, with a Crowd target of $70 per share.  The stock price of the Bank of Nova Scotia was CAD 70.91 at the most recent close. The stock price of the Bank of Nova Scotia has changed by:
+3.05% over the previous week,
+9.34% over the previous month,
-14.98% over the previous year.
About Bank of Nova Scotia:
Bank of Nova Scotia offers a range of banking products and services in:
It has four operating segments:
Global Banking and Markets
The company provides business banking solutions, including:
Trade finance solutions to small, medium, and large businesses including:
Automotive financing solutions to dealers and their customers

Along with daily banking products like debit and credit cards

Chequing and savings accounts
The company runs a network of 1,300 branches and a contact and support centre. These are international networks. Halifax, Canada is home to the head office of The Bank of Nova Scotia, which got established in 1832.
News:
Scotiabank focuses more on its domestic market. Its capital markets division is eliminating some positions in Asia. while providing retention and relocation benefits to other employees. The move is part of the bank's effort to focus on North and South America. Global banking and markets division in the Asia-Pacific area will concentrate on distribution. The Americas products and supporting international clients would be the sole purpose.
Scotiabank's global banking and markets division includes 12 locations spread across:
During the third quarter of its fiscal year, the division had 2,205 employees worldwide. This is including the 1,131 outside of Canada. The number of those employees based in Asia was not disclosed by the bank. Global banking and markets' third-quarter revenue decreased 8.1% from a year earlier to US$1.15 billion. This is due to declines in underwriting and consulting fees as well as trading revenue.
Fundamental Analysis:
Positive Fundamentals
Outstanding total returns
Bank of Nova Scotia Stock is in the top quartile and has beaten its sector rivals over the previous five years. (for a hold duration of at least 12 months).
Underpriced to book value
On a price-to-book value metric, the stock is trading at a low price compared to its peers and is in the top quartile. Be sure there isn't a specific explanation by looking at its financial performance.
Low debt ratio
The company is more flexible since it is less leveraged than its competitors and is in the top quartile. Keep an eye on the news and consider the industry. This is low because there is no room for future expansion at the organization.
Superior growth in revenue
Bank of Nova Scotia Stock revenue growth over the previous five years has been in the top quartile. This is an industry comparison.
Negative Fundamentals
Excessive volatility
This company's total returns have been erratic and higher than the industry average. Over the past five years. If you plan to invest in such a stock, be sure your risk tolerance is adequate.
Excessive in comparison to wages
Bank of Nova Scotia Stock is trading above the sector median and at a premium to its peers to price to earnings.
Low equity return
The management of the company has produced a lower-than-average return on equity. It is a peer comparison during the past four quarters.
Poor asset return
In comparison to its peers and analysis of the past four years. The management of the company produced a lower median return on assets.
Conclusion of Analysis
The fundamental score of Bank of Nova Scotia Stock is 4.4 out of 10, where the stock is currently set with a Bearish tone.
Disclaimer
Stock Target Advisor is not a broker/dealer, investment advisor, or platform for making stock buying or selling decisions. Our goal is to democratize and simplify financial information through automated analysis, aggregation of stock information, and education to help investors with their research. No content on our site, blogs or newsletters constitutes – or should be understood as constituting – a recommendation to enter into any securities transactions or to engage in any of the investment strategies presented in our site content. We also cannot guarantee the accuracy of any information presented on our site and in our analysis.