Analysts rate Ardelyx Inc. (ARDX:NSD) with a Hold rating and a $4 target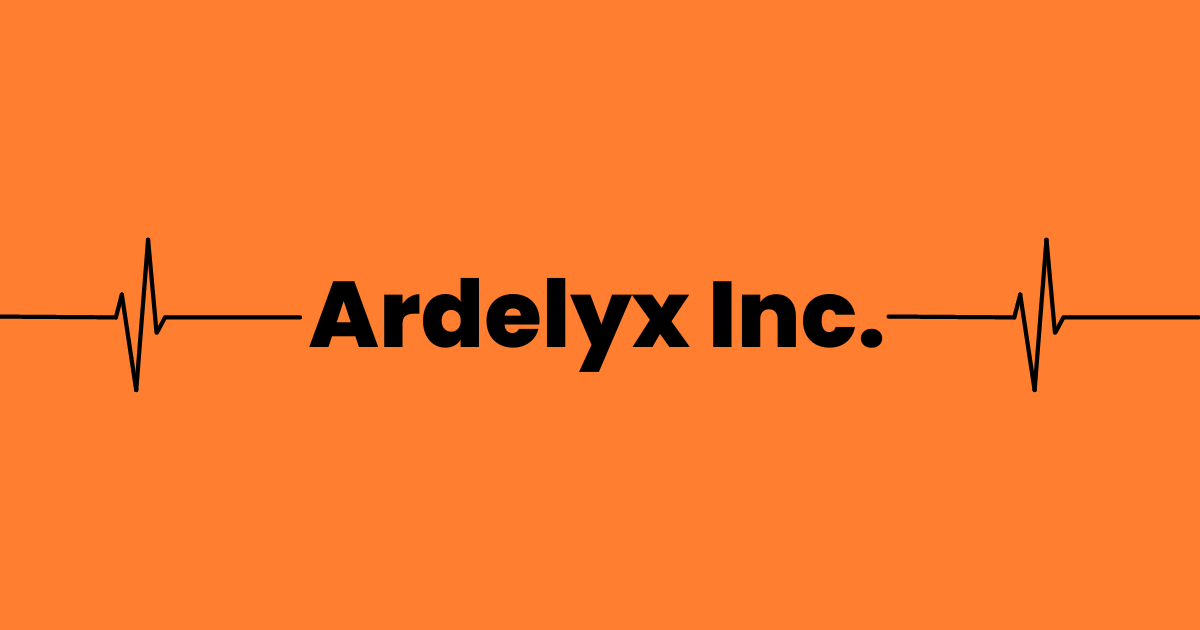 Based on the Ardelyx stock forecast from 3 analysts, the average analyst ARDX stock price target is USD 4.67 over the next 12 months. Ardelyx Inc's average analyst rating is Hold. Stock Target Advisor's own stock analysis of ARDX stock forecast is Very Bearish, which is based on 0 positive signals and 4 negative signals. At the last closing, Ardelyx stock price was USD 1.13. Ardelyx stock price has changed by -0.18% over the past week, +0.06% over the past month and -13.74% over the last year.
About Ardelyx Inc. (ARDX:NSD):
Ardelyx, Inc., a biopharmaceutical company, discovers, develops, and commercializes medicines to treat gastrointestinal and cardiorenal therapeutic areas in the United States and internationally. The company's lead product candidate is tenapanor, which has completed Phase III clinical trial for the treatment of patients with irritable bowel syndrome with constipation, as well as in Phase III clinical trial to control serum phosphorus in adult patients with chronic kidney disease (CKD)on dialysis, or hyperphosphatemia. The company was formerly known as Nteryx, Inc. and changed its name to Ardelyx, Inc. in June 2008. Ardelyx, Inc. was incorporated in 2007 and is headquartered in Waltham, Massachusetts.
Target Lowered by Citigroup USD 12 » USD 10 2022-08-18
Maintains Piper Sandler Neutral USD 4 » USD 3 2022-05-19
Downgraded Cantor Fitzgerald OW » Neutral USD 7 » USD 1 2022-05-06
Upgrades Jefferies Financial LLC Buy USD 1 » USD 5 2022-03-02
Target Lowered by Wedbush USD 2 » USD 1 2022-03-01
Upgrades Ladenburg Thalmann Buy USD 6 2021-12-01
Target Raised by Citigroup Buy USD 7 » USD 13 2021-11-30
Downgrades Ladenburg Thalmann Hold 2021-10-14
Target Lowered Cantor Fitzgerald Overweight USD 14 » USD 7 2021-07-30
Downgrades Jefferies Financial LLC Hold USD 11 » USD 2 2021-07-21
Downgrades Wedbush Neutral USD 3 2021-07-20
Downgrades Piper Sandler Neutral USD 14 » USD 4 2021-07-20
Initiates Coverage On Wedbush Outperform USD 14 2021-03-23
Maintains SVB Leerink Outperform USD 11 » USD 14 2020-12-11
Reiterated by Jefferies Financial LLC Buy USD 11 2020-02-18
Initiated by Cowen Outperform 2020-02-10
Target Raised by Jefferies Financial LLC Buy USD 6 » USD 11 2019-12-03
Maintains SVB Leerink Outperform USD 8 » USD 9 2019-09-24
Initiates Piper Sandler Overweight » Overweight USD 15 2019-04-08
Initiates Coverage On Jefferies Financial LLC Buy USD 7 2018-08-24
Maintains Citigroup Buy USD 17 » USD 11 2018-08-09
Resumed Leerink Partners Outperform USD 13 2018-03-19
Reiterates Leerink Swann Outperform » Outperform USD 13 2018-03-19
Raises Target Citigroup Buy » Buy USD 16 » USD 17 2017-11-29
Reiterates Wedbush Outperform USD 13 » USD 12 2017-11-28
What we like:
There is nothing we particularly like about the fundamentals of  ARDX stock.
What we don't like:
High volatility:
The total returns for ARDX stock are volatile and above median for its sector over the past 5 years. Make sure you have the risk tolerance for investing in such stock.
Overpriced compared to book value:
ARDX stock is trading high compared to its peers median on a price to book value basis.
Negative cashflow:
Ardelyx stock had negative total cash flow in the most recent four quarters.
Negative free cash flow:
Ardelyx stock had negative total free cash flow in the most recent four quarters.
Disclaimer
Stock Target Advisor is not a broker/dealer, investment advisor, or platform for making stock buying or selling decisions. Our goal is to democratize and simplify financial information through automated analysis, aggregation of stock information, and education to help investors with their research. No content on our site, blogs or newsletters constitutes – or should be understood as constituting – a recommendation to enter into any securities transactions or to engage in any of the investment strategies presented in our site content. We also cannot guarantee the accuracy of any information presented on our site and in our analysis.